Code of Signals on a New Plan. John McArthur, 1790. (Admiralty Library, Portsmouth)
This unusual signal book bore signals painted on silk ribbons that could be pulled through the pages to change the meaning of those signals at will. The ends of the ribbons were wound up in ivory capsules so the excess could be contained. Those made heavy ends for the delicate material, though, and the ribbons therefore suffered tears and losses, and the paper in turn was also vulnerable where they threaded through. We devised a system of polyester film sleeves with Plastazote blocks that temporarily encapsulate the leaves with ribbons and hold the ribbons/capsules in place. This provides support for turning the pages but is also all completely removable for exhibition or photography. Ribbons were repaired with heatset silk crepoline and Lascaux 498/360 mix, and a few delicate paper repairs carried out where the paper was most vulnerable.
Engravings from Writ, Giovanni Michele. Ragguaglio della solenne comparsa... Rome: Ercole Domenico Antonio, 1687. (Private client)
This is from a set of 17th century prints we worked on depicting the table setting for a feast, then individual items in detail. They all had false folds, tears, small losses, accumulated surface dirt, and stains from previous water damage. We washed them in cold water to remove the stains without affecting the sizing, dried them flat, repaired tears, and filled losses.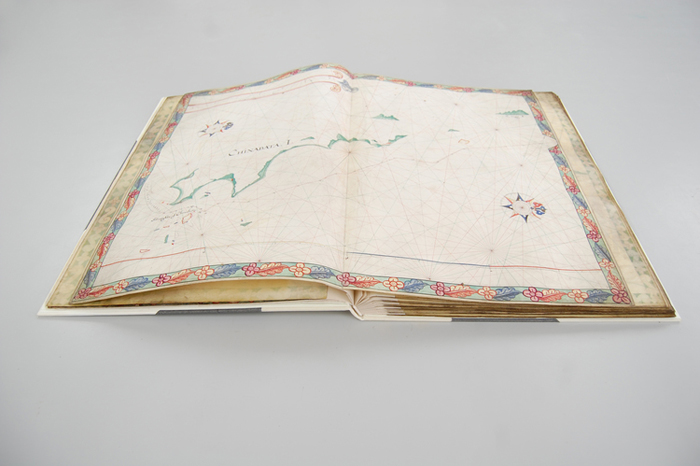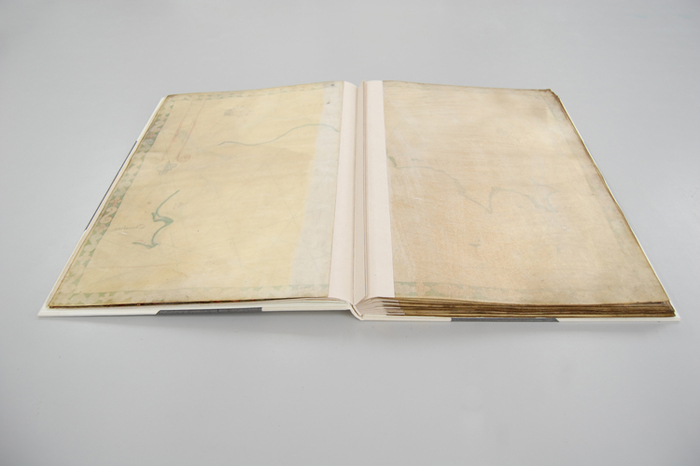 Gabriel Tatton, Maritime Atlas of the East Indies [MS], 1620 (Admiralty Library, Portsmouth)
The only surviving 17th century English charting of the East Indies, made by cartographer Gabriel Tatton. This is its third binding in a few hundred years, and the paper stubs holding together the parchment leaves were failing. The stubs were removed, the leaves cleaned, and a new binding made with parchment & handmade paper that would protect the textblock better than the failing leather/paper one. A protective box with matching leather labels was made to keep the volume safe.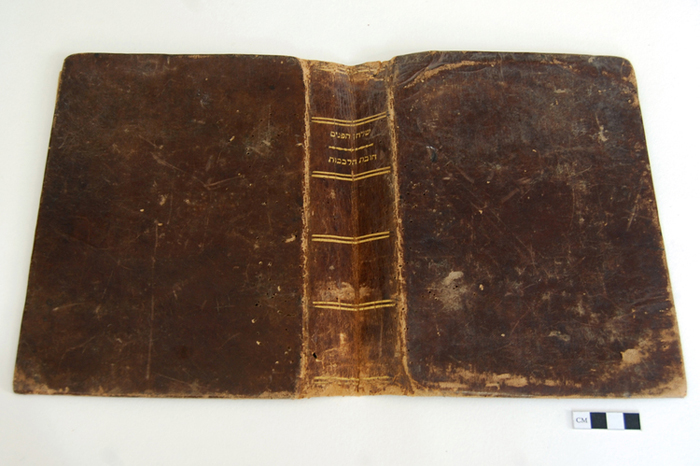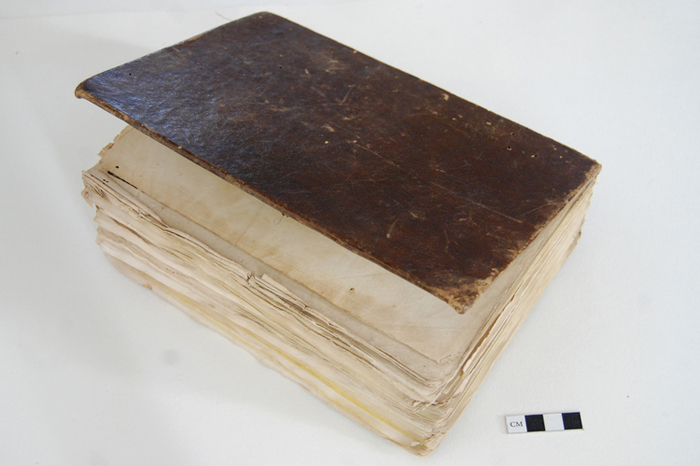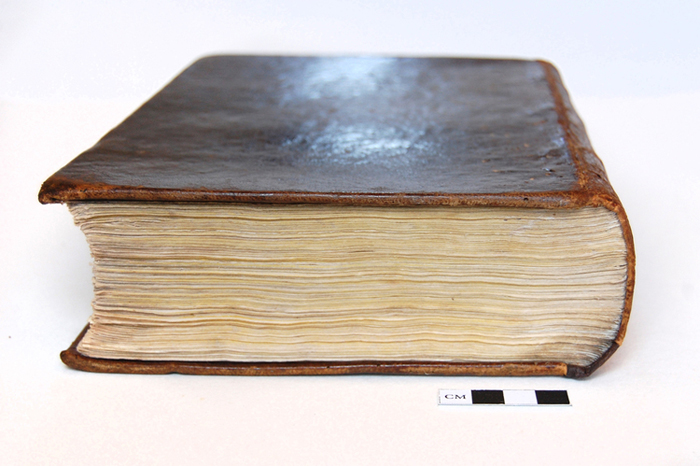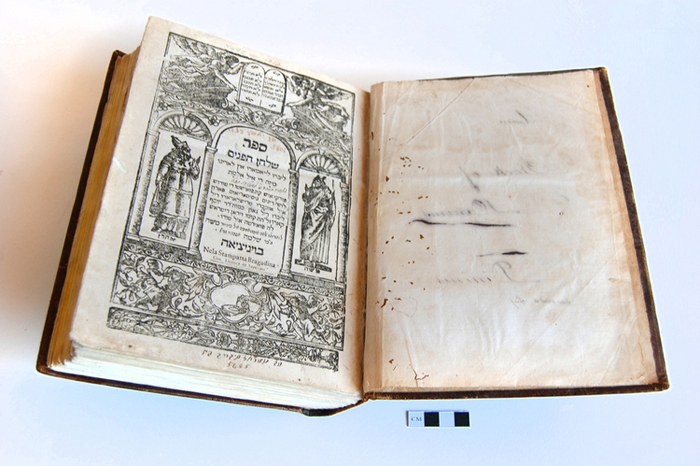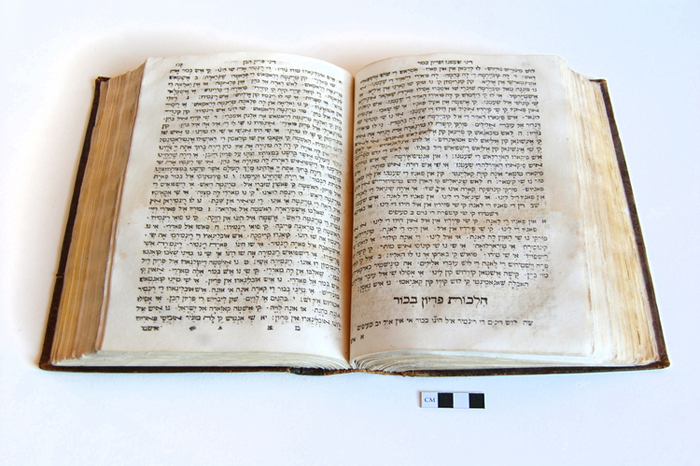 Book of Dinims, 18th century. (Private client)
Water damage and bookworms left the sewing completely failed, with little left in the paper along the spine to sew to. It had to be disbound, every page repaired, then resewn. When it was sewn back together, it no longer fit in the case, which had shrunk in the years since it separated from the textblock and probably was too tight to begin with, so the back joint was split to allow them to fit comfortably together.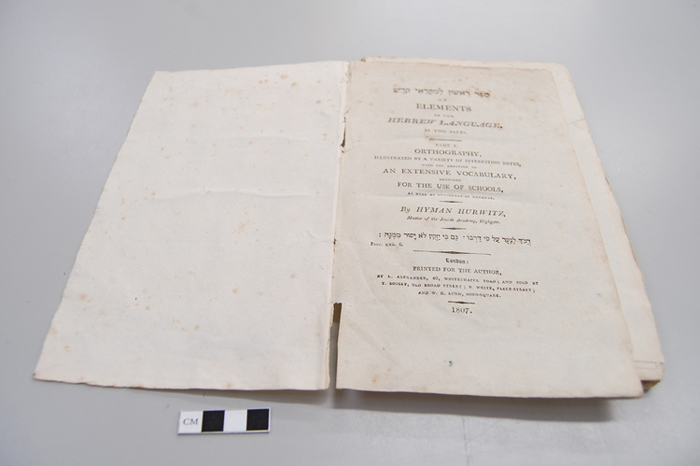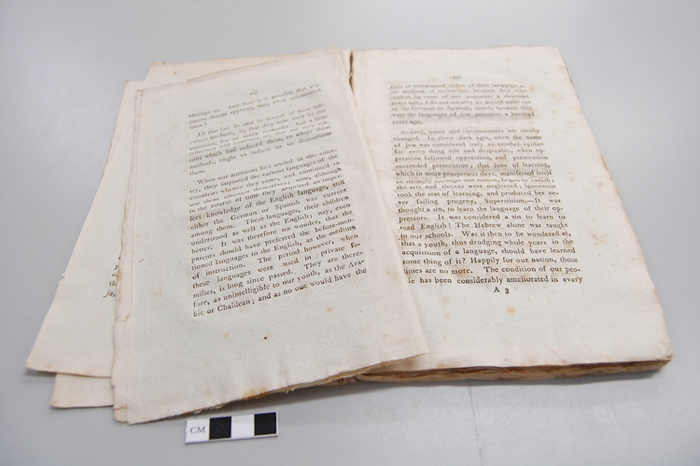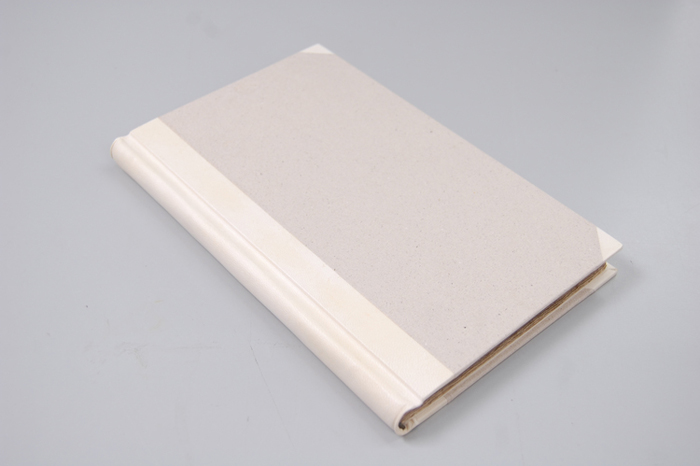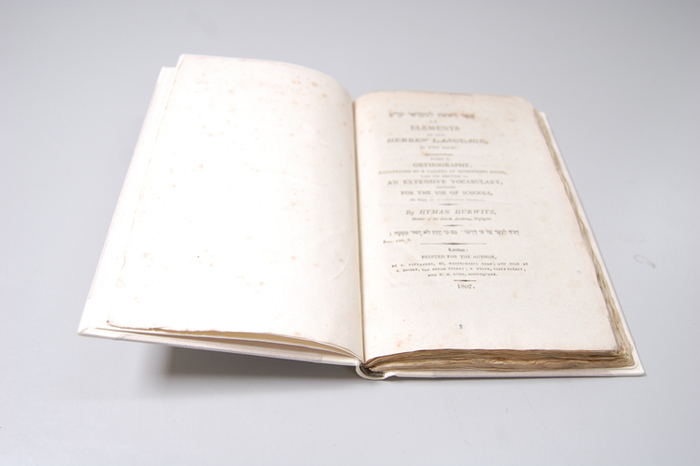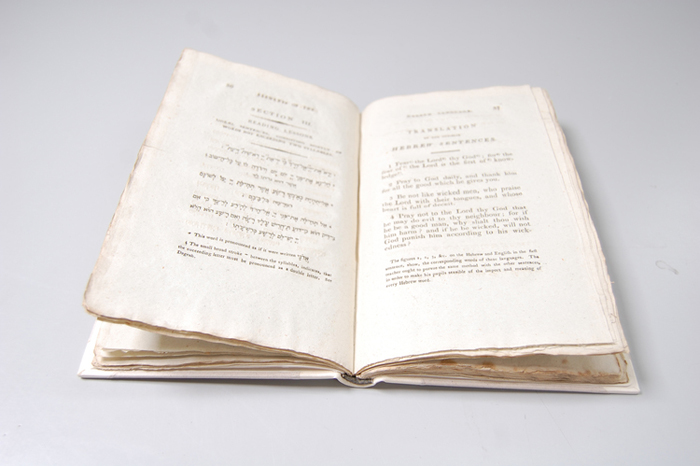 Hurwitz, Hyman. Elements of the Hebrew Language in Two Parts. London: L. Alexandar et al., 1807.
This book would have originally had a blue paper publisher's binding, meant to be replaced with a leather or vellum one by a bookbinder, which never happened. The blue cover was missing, and the textblock beginning to suffer for it—and not easily readable without a binding. We reinforced the sewing then made a quarter vellum binding with handmade paper: sturdy but aesthetically neutral.
Private client
Richard Saunders, The English Apollo, London: 1763.
This one also came without a binding, and had formerly been squeezed into a leather one by the look of the spine. Abigail devised a new method of binding single- and several-section books that allows a round spine for titling, but doesn't put any stress on the textblock, which really can't be rounded as usual at that size.
Private client